Rockville Divorce Lawyer
Experienced Divorce Attorneys Serving Montgomery County, MD
McGann Hughes is a primary and top-rated family law firm. Our Rockville divorce lawyers acknowledge and empathize with the case you're going through. Divorce is one of the most stressful conditions – hiring an incorrect attorney can make it even more stressful. It would be best if you had a respected Rockville divorce lawyer with experience, careful to detail, and prepared to fight for you.
The Importance of Choosing the Right Divorce Attorney
Having the wrong attorney can cost you significantly – both financially and personally. At McGann Hughes, we understand that a divorce is one of the most stressful and financially complex family law matters that you may experience in Rockville, Maryland.
Any Rockville divorce attorney at our family law firm can help you navigate all aspects of the divorce process, from the initial separation to the judgment of absolute separation, and all of the negotiation and court-mandated steps in between. The team at McGann Hughes has years of legal experience and are prepared to fight for you and your family's best interests.
Contested & Uncontested Divorce in Maryland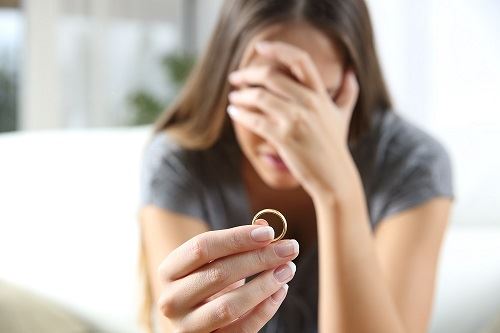 If you are looking for a divorce lawyer in Rockville reach out to McGann Hughe. Our family law lawyers know the Maryland laws thoroughly and are able to assist in cases involving:
We can also assist you in negotiating a fair agreement through mediation (also known as alternative dispute resolution).
Our family law attorneys take the time to educate our clients regarding all aspects relevant to their situation, so our clients can make an informed and educated decision about their children, their finances, and their future.
Persuasive Negotiators & Aggressive Litigators in Maryland
Our Rockville divorce lawyers understand that for many clients, reaching a fair settlement agreement is the ultimate goal.
If a client is unable or unwilling to reach a settlement, the issues involving grounds for separation, marital property, spousal support, child custody, and child support will be tried before the court.
Our compassionate divorce lawyers in Rockville are highly experienced litigators and can assist you every step of the way, from filing the complaint, to understanding the discovery process, and, ultimately, preparing for trial.
Maryland Grounds for Divorce
Maryland is unique in that you can file for either a limited or an absolute divorce. A limited divorce in Rockville, MD is essentially a formal separation that is overseen by the court.
It's important to note that a limited divorce does not actually terminate your marriage.
The grounds for a limited divorce in Maryland are as follows:
Cruel treatment toward you or your child
Desertion
Separation (Living apart, but not cohabitating)
Vicious conduct toward your child
What is an Absolute Separation?
An absolute separation is a traditional divorce that permanently dissolves your marriage.
The grounds for separation are:
Adultery
Conviction of a felony or misdemeanor (with conditions)
Cruel treatment toward you or your child
Desertion (with conditions)
Insanity (with conditions)
Living separately for 12 months (while not engaging in intercourse)
Mutual consent (with conditions)
Vicious conduct toward your child
Our team of Rockville divorce lawyers at McGann Hughes & Hughes, located Rockville, can help guide you through the grounds for separation.
How to Get Divorce Papers in Maryland
Couples who wish to divorce in Maryland must first file a joint petition with the circuit court in the county where either spouse resides. The petition must include a statement of marital grounds, as well as information about property division, child custody, and financial support.
Once the petition has been filed, both spouses will be required to attend a conciliation conference with a court-appointed counselor. If the couple is unable to reach an agreement at the conciliation conference, they will be required to attend mediation. If mediation is unsuccessful, the case will go to trial.
Upon completion of all necessary proceedings, the court will issue a divorce decree, which will be signed by both spouses and filed with the clerk of the court.
What to Expect in the MarylanDivorce Process
There are many potential issues to address in divorce, including whether it is possible to reach a negotiated settlement agreement prior to filing.
Once a party has filed, generally, the following relief is available through the court in Rockville:
Temporary relief:

This is a​​lso called "pendente lite relief". This relief includes determining visitation, child support, spousal support.

Permanent relief.

Includes child custody, child support, marital property division, spousal support, marital awards, and retirement benefits.
The results in a divorce proceeding can have far-reaching importance for your future.
With so much at stake personally and financially, it's critical to seek the counsel and expertise of an experienced divorce lawyer qualified to protect your legal rights and advocate for your best interests.
How is Property Divided After Divorce in MD?
Dividing marital property after separation in Maryland isn't a 50/50 split. Maryland is an equitable distribution state that disperses assets, and even debts, by examining certain factors that resides within the couple's relationship.
To award what is deemed fair and equitable, a court may evaluate:
The length of the marriage
The age, health, income, and overall well-being of each party
What each spouse contributed to the marriage
Can You Divorce While Living Together?
Under normal circumstances, you cannot get a separation while living together. One of the few exceptions is when you have minor kids and have signed a separation agreement, then you may agree to Mutual Consent.
For the most part, you will need to live separately for at least a year before filing.
Getting a Divorce in Maryland? Call -
(301) 658-2494
At McGann Hughes, we understand that divorce affects all aspects of your life. Our Rockville divorce attorneys know how to handle your case diligently, with compassion, and personalized attention to achieve the best results for you and your family.
If you are contemplating filing for separation in Maryland or are already in the process, make sure you have an experienced, knowledgeable, and compassionate family lawyer on your side.
Contact us online or call (301) 658-2494 to schedule a comprehensive initial consultation with a Rockville divorce lawyer. Se habla Español.